[Click image for the rest of the comic!]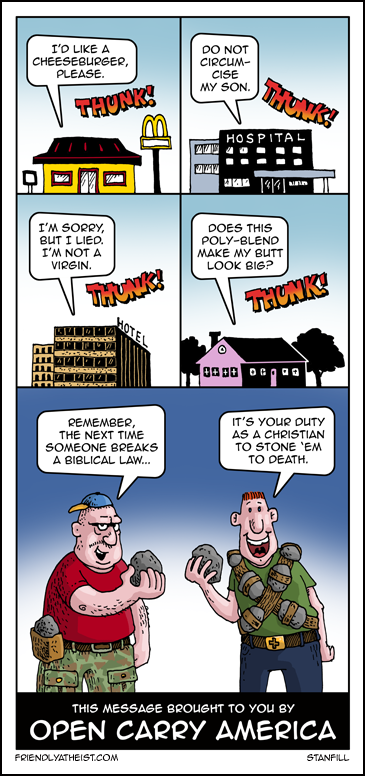 For the record the following Biblical transgressions require the death penalty:
Mixing meat and dairy: Exodus 23:19
Circumcision: Genesis 17:14
Lying about virginity: Deuteronomy 22:25
Wearing clothing made of two materials: Leviticus 19:19
And whatever you do, never touch a goddamn football: Deuteronomy 14:8
More importantly, is allowing people to mete out their peculiar version of justice with a great big rock any less idiotic than letting them walk around armed to the teeth looking for trouble? No, no it's not.
For Certain Christians, Lying for Jesus is Justified in the Abortion Wars
Leviticus 19:11
makes clear: "Ye shall not steal, neither deal falsely, neither lie one to another."There's
quite a bit
of the Bible that conservative Christian activists tend to leave out, but Biblical prohibitions against lying are routinely given short shrift by those intent on seeing God's will done on Earth. We don't have to look far for examples of it -- from Christians arguing that LGBT people are predators to politicians pretending that being gay is a choice, these lies are common.
The Washington Post
has a
good look
at another popular outlet for faith-based lying: the abortion debate, and the notoriously deceptive idea of "crisis pregnancy centers." Reporter
Petula Dvorak
examines the work of one Virginia activist,
Pat Lohman
, in particular.
[MORE]